If you click on a link above and when the page opens, you cannot see any thumbnails, then your browser may not be configured to allow the javascript used to build the website galleries.
To view this gallery
The thumbnail images contain a number which shows the time the photograph was taken.
Click on a thumbnail to open a larger version of the photo which contains the file name so you can order a print.
If you find an image of a friend or relative, or want to show off a photo of yourself, there is a facility to send them an EMail so they can view the photo too!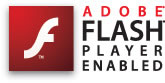 You should be able to see an Adobe Flash slideshow in the panel to the left.
If not you can download the latest version - free - from the Adobe Website by clicking on the logo below. This takes you directly to the Windows version, but you can obtain Flash Player for other other browers such as Safari or Firefox from that page